Saturday June 9
Click for today's photographs »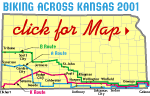 The 27th Biking Across Kansas got off to great start today when riders on three routes began their journey across the state at the Colorado border.
Early morning skies were overcast, but soon the sun broke through and continued to be hot throughout the day with highs in the 80's and lots of humidity. The A Route made its way through several miles of construction in the morning on Highway 50, but were past the worst of it at Lakin.

The B route is in Scott City this evening, the A Route in Garden City and the K Route in Satanta.