Saturday June 16

Click for photographs »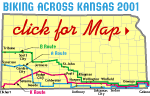 For the first time ever, BAK ended today just east of Galena on historic Route 66 at the Missouri border.
It was a short day, with only 40 miles between Oswego and the state border. The weather was sunny and perfect for cycling. On the way to their destination, cyclists passed through Riverton with many stopping at the old Eisler Brothers store to enjoy a cold drink of buy a small piece of Route 66 memorabilia.
After a short stretch on an original portion of US 66, cyclists arrived to their ultimate destination--the Kansas/Missouri state line.
Afterwards, everyone gathered at Schermerhorn Park for the final BAK celebration dinner before saying goodbyes and parting ways for another year.
Watch for additional BAK photographs to be posted later this week!