Sunday June 10

Click for today's photographs »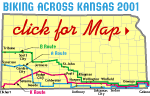 Today was hot, hot, hot, with temperatures going easily into the mid 90's!
Riders on the B and A Routes had to ride into a slight Southwesterly headwind for part of the day, but K Route riders had a tailwind for the entire day. Everyone is getting into the routine by now and getting to know each other
The B Route is in Jetmore, the A Route in Meade and the K Route is staying in Dodge City.

[Sorry this report was delayed, there were no phone lines available to us in Meade.