Saturday June 7 - Colby , KS
West of here about 56 miles is the border between Kansas and Colorado where Biking Across Kansas started for 1997.

Yesterday after a few lost vehicles, one fried CB radio and a flat tire, the BAK Caravan made it to Goodland. There they were met by an enthusiastic group of bicyclists eagerly awaiting registration and the start of BAK the next morning. A meeting was held (mostly for the newcomers) to explain the operation and allow them to ask questions. As usual, the question of route marking came up and I answered (as usual) that most turns would not be marked because we feel that the maps are complete. Also the question of time was addressed and readdressed until all understood that Biking Across Kansas operates on Central time all the time, even though the start will be in the Mountain time zone. Many riders were apprehensive about the upcoming adventure and didn't rest very well last night.
Saturday morning finally came and the people made their way to the state line, where they started at 9:00 am sharp. The weather was slightly overcast and warmer than it sometimes is at this elevation of slightly over 4,000 feet. Just before the start, a gentle breeze started from the south and continued to increase until a southeasterly (headwind) was the norm for the rest of the day. The morning temperature was very comfortable in short sleeves and shorts, but it increased to 84 degrees before starting to drop around 2:00 pm.
One of the highlights of the day was the BAK lunch in Brewster prepared the the church ladies as a fund raising event and paid for by the BAK organization. The ride on in to Colby was all downhill as we had dropped about 900 feet today. Each of the routes stayed in separate locations here in Colby.
It seemed that enthusiasm was high and everyone was having a good time. At our meetings tonight, the Route Directors will be introduced. After the meeting the Route Directors will make sure that the lights in the gyms are turned out at ten o'clockand will ensure the sleeping area is kept quiet for the much needed rest.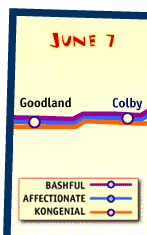 Go to Full Map
Daily Mileages

Bashful:

54

Affectionate:

55

Kongenial:

56

Today's High: 84°