June 8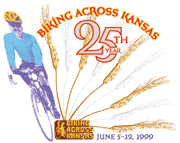 As expected, the day was hot and windy with strong gusts from the south. Still the riders persevered and managed to enjoy themselves along the way.
The Bizzare Route is in Lindsborg this evening.
The Acceptable Route is in Lyons this evening.
The Komfy Route is in Hutchinson this evening.
See the Director's Report

See the Photos from today's ride