June 10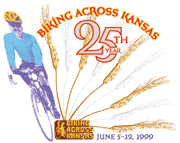 All the BAK routes went into the beautiful Kansas Flint Hills today and riders were treated to a lot of "ups" and "downs." The weather was great--occasionally overcast, with a few sprinkles here and there, but warm and comfortable overall.
Riders on the Acceptable Route had a pleasant stop in historic Cottonwood Falls and Strong City.
Tomorrow, all three routes will converge on Ottawa for one final stopover before the finish on Saturday.
The Bizzare Route is in Council Grove this evening.
The Acceptable Route is in Emporia this evening.
The Komfy Route is in Burlington this evening.
See the Route Map

See the Photos from today's ride