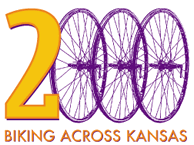 Everything from BAK 2000!
Click on a button to the left to see the reports and photographs from that day's ride.

BAK Letter
BAK rider, Mary Willard, wrote a letter about her impressions of BAK 2000 to her friends. She has kindly allowed us to reprint it here--it is representative of the good feelings that many people have about Biking Across Kansas.

Photo Gallery
A new BAK photo gallery has been added
with 132 new large images--click to see it now.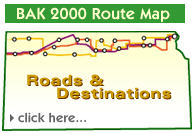 Reviews
Recap by Kenny Allen
Recap by Joy Delamaide

BAK Song Lyrics from Dave and Laura Weldon
B-Akers (to the tune of "Green Acres"


BAK Song Lyrics from Dave Redmon
Bye Bye BAK
BAK Blues


Selected MPEG video clips from BAK 2000
Start of BAK
Riders in action
Hand-crafted Organ in Downs
Ghost Rider Song
Chicken Dance
Green Acres Song
On the way to White Cloud
Nearly Finished

You will need MPG playback software such as QuickTime to view these clips.