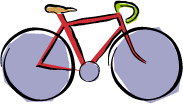 Biking Across Kansas (BAK) is an annual, eight-day
bicycle tour that crosses the Sunflower state, with over
1000 cyclists participating. Three parallel, 500+ mile
routes begin at the separate points on the Colorado
border and converge in Missouri eight days later.

This year, via our Web site, we published
daily ride reports and route info
during the week of June 10-17, 1995.