Press Release 3.3.2023
Weaver to retire as BAK executive director
Board seeking replacement to lead annual cross-Kansas biking event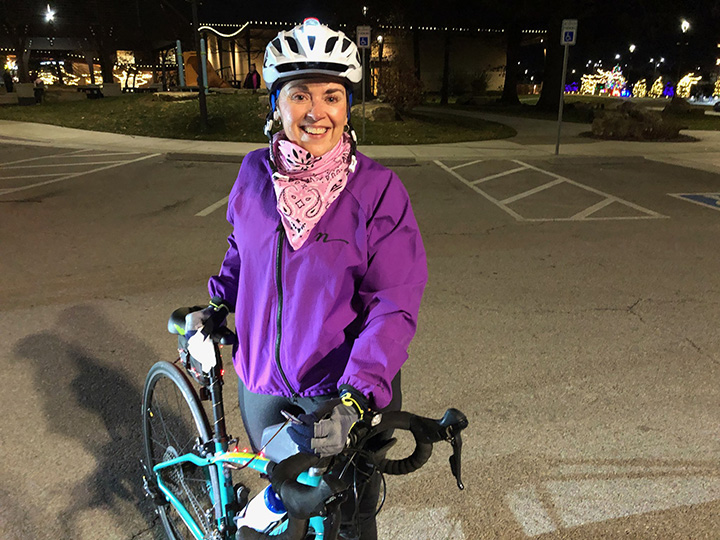 After over a decade in the saddle as executive director of Biking Across Kansas, Stefanie Weaver is retiring. The BAK Board is now seeking applications for her replacement.
"It's time to take a step back to create a better personal and professional balance and spend more time with family," said Weaver. "What won't change is my love for BAK, our BAK community, bicycling, and the hospitality of my home state of Kansas."
Now, Weaver looks forward to returning to BAK in 2024 with her family as a full-time cyclist. "After all, it's been a family tradition since 1999 when my husband and I started cycling BAK," she said.
Their son joined them as a cyclist on BAK in 2010, when he was eight years old.
When Weaver took over the handle bars of BAK in 2013, she became the organization's fourth executive director.
"The new executive director of BAK will be stepping into at an exciting time as the BAK community prepares to celebrate the 50th anniversary of the very first Biking Across Kansas tour in 2024," Weaver said. "In addition, the new leader will be blessed with a strong support system within the BAK board of directors and volunteer team."
"The Biking Across Kansas board of directors is deeply grateful to Stefanie Weaver for her 10 years serving as executive director," said David Rohr, BAK Board chairman. "Under her steady oversight, BAK implemented so many significant changes that improved the experience for everyone involved. We wish her well on her future endeavors and look forward to seeing Stefanie out riding her bicycle on BAK."
About the job
This is a part-time contract position (variable time commitment throughout the year). The one-year contract June 17, 2023, to July 31, 2024, with the option for renewal.
The annual salary for this part-time position will range from $15,000 to $20,000, depending on the successful candidate's relevant experience and qualifications, as determined by the board.
The job involves coordinating and attending and attending BAK board and volunteer meetings, coordinate/recruit other volunteers, and managing and coordinating BAK events.
The ideal candidate has experience riding in BAK or organized road bicycling events, appreciates Kansas history and culture, and resides in Kansas.
Persons interested in learning more about the future executive director role, will find information at https://bak.org/jobs/.
About Biking Across Kansas
Biking Across Kansas (BAK) is an annual, eight-day, bicycle tour across the state of Kansas. BAK promotes health and wellness through bicycling, the history and beauty of the Kansas landscape, and the warm hospitality of the Kansas towns and people. BAK started in 1975 with fewer than 100 hundred riders. Forty-five years later the tour is now capped annually at 850 participants.

For more information, visit https://bak.org or contact Weaver at 913-735-3035 or email director@bak.org.
###